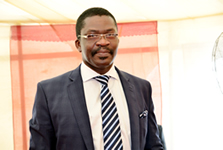 Dr Dipo Oluyomi is the Resident Pastor of Kingsway International Christian Centre, South West Branch which is now called KICC The Open Door.
A man of vision and integrity, Dr Dipo was appointed CEO of KICC UK in 2006 and National Superintendent of KICC UK much later. In this role he leads the Senior Management Team of the organisation and he is also the primary Pastor of Counselling at KICC.
A noted author, with a passion to see believers overcome limitations, setbacks and struggles in their lives, his titles include: Blessed and Highly Favoured, Preparing for a Significant Future, So, You Want to Get Married, Changing our Generation, Living by Design and not by Default and many more.
Prior to working in full time ministry, Dr Dipo was a practicing medical doctor. He graduated from the College of Medicine, University of Ibadan in 1983 and had started to train as an Obstetrician and Gynaecologist when he was called into full time ministry.
He has been serving under the ministry of Pastor Matthew Ashimolowo who is his mentor and spiritual father since 1989.
He continues to serve the needs of others as a regular guest speaker at major conferences, on radio and television programmes, giving counselling advice.
Preaching in Ireland, USA, Africa, the French Caribbean, Barbados and the UK, Dr Dipo is fulfilling his God-given mandate to challenge men and women to become all that God has ordained them to be.
Dr Dipo Oluyomi is married to Minister Peju and they are blessed with three children: Joy, Danielle and Benjamin.