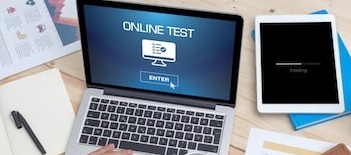 1. On the top navigation bar of the University website, click on the Portal -> KU – ELearning (this takes you to KU LMS platform) or type lms.kingsuniversity.edu.ng on your browser.
2. Log in to the LMS using your Matric Number and your Password
3. After you have logged in, you will be taken to a dashboard where you will see your list of registered courses.
4. Click on the course you have been scheduled to take its CA test, Please note that you are to keep to the CA Test time table; as you will not be allowed to take the CA if you try to start the CA before the allotted time or after the set time of the CA test.
5. You will be taken the course page where you will see 2019/2020 Quail Semester CA Test, Click on it to enter the test environment. Start the test by clicking attempt quiz.
6. When you are done with the test, please click on the finish attempt, and Submit button to end the test.
NOTE
The University strongly advised the use of laptop for this test.
Sample of the CA Test is available on KU LMS Tutorial course, kindly login to the course to familiarize yourself about the test platform.